Vectorworks, Inc. is a global software developer and creator of Spotlight, the industry-leading design software for the entertainment business. Whether you work in lighting, scenic, event, TV, theatre, film, or exhibit design, Spotlight enables you to transform your designs into award-winning experiences.
Headquartered in Columbia, Maryland, Vectorworks, Inc. is a part of The Nemetschek Group. Learn more about how we empower designers around the world at www.vectorworks.net.
Look who was presenting at the VW summit.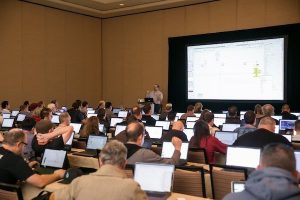 Scott Parker presents "Using Spotlight With Braceworks" at 2018 Vectorworks Design Summit. Photo by Jason Dixson Photography. Image courtesy of Vectorworks, Inc.