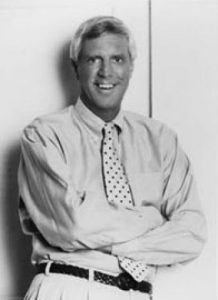 Ken Billington started his career with the off-Broadway hit Fortune and Men's Eyes. Since then he has designed over 100 Broadway and 70 Off-Broadway shows including Chicago,Fame, Lily Tomlin in The Search for Signs…, Footloose, Candide, Annie, Foxfire,Tru, Sweeney Todd, Side by Side by Sondheim, On the Twentieth Century, Annie Warbucks, Sylvia,London Suite, and Snoopy.
Other projects include Fantasmic! at Disneyland, Jubilee! at Bally's Las Vegas supervising Riverdance and for 26 years the Radio City Music Hall Christmas Spectacular. Ken is the recipient of the Tony, Drama Desk, Los Angeles Drama Critics, and Ace Awards and the Lumen for his architectural lighting.
Ken Billington 2010 Bio from the Lighting Archives website.
Since joining the United Scenic Artists in 1968 Ken Billington has worked as an assistant to such designers as Tharon Musser, Thomas Skelton, William Ritman and Pat Collins. In 1973 he lit his first Broadway show The Visit directed by Harold Prince and as of January 1, 2011 Ken has designed 93 Broadway productions including The Scottsboro Boys, Sondheim on Sondheim, [Title of Show], The Search for Signs of Intelligent Life in the Universe starring Lily Tomlin, Footloose, Candide (1997), Annie (1997), Annie Warbucks, Inherit the Wind, Moon Over Buffalo, The Red Shoes, Fiddler on the Roof (1990, 81,76), Lettice and Lovage, Tru, Meet Me in St. Louis, On the 20th Century, Side by Side by Sondheim among others. He has been honored with seven Tony award nominations and received the 1997 Tony Award for his work on Chicago. His Tony nominations include: Sunday in the Park with George (2008), The Drowsy Chaperone (2006), End of the World (1984), Foxfire (1982), Sweeney Todd (1979), Working (1978), and The Visit (1973). For a complete list of Broadway shows go to www.ibdb.com.
Off-Broadway he has many productions to his credit including Fame, The Thing About Men, Sylvia, London Suite, Annie Warbucks, Lips Together, Teeth Apart, The Lisbon Traviata, Snoopy and Fortune in Men's Eyes. For a more complete list go to www.lortel.org/lla_archive
Ken works in all forms of theatrical lighting including opera, dance, concerts and spectaculars. 13 productions for the NY City Opera including: Candide, the American premiers of Silverlake, The Voice of Ariadne and Ashmedai. For the Houston Grand Opera 31 productions including the world premier of Willie Stark and Aida for the opening of the Worthem Center Brown Theatre. Other companies include Dallas Opera, Chicago Lyric Opera, San Francisco Opera, La Scala, Theatro Real in Madrid and Teatro Colon in Buenos Aires.
Some of the great entertainers that Ken has lit include Ann-Margret, Shirley MacLane, Liberace, Sigfried and Roy, Juliet Prowse, Chita Rivera and Lisa Minelli to name just a few.
For 27 years the Radio City Music Hall Christmas Spectacular had lighting by Ken Billington as well as the annual Easter Show. Other spectaculars include the relighting of Jubilee at Bally's Las Vegas in 2004, Fantasmic! at Disneyland, Shamu Rocks at the Seaworld Parks and Illuminights at Busch Gardens Williamsburg.
Ken has been received many awards including the Ace Award for Television Lighting, the Luman Award for Architectural Lighting and many theatre awards including the Tony, NY Drama Desk, Los Angeles Drama Critics and Boston Drama Critics to name a few.
A more complete list of his credits can be found at www.kenbillington.com.