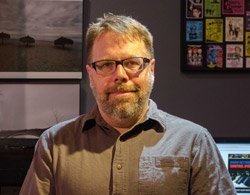 John Huntington is a (full) Professor of Entertainment Technology at New York City College of Technology (CUNY). Through his consulting company, Zircon Designs, Huntington freelances as an entertainment and show control systems consultant, author, and sound designer/engineer.
Huntington's book, Control Systems for Live Entertainment, was first published by Focal Press in 1994; a second edition was released in 2000, and a third major update was released in 2007. The book was the first on the topic of entertainment control and show control, and continues to be the leading book in the field. In 2012, Huntington released a major, self-published update to the book and retitled it Show Networks and Control Systems.
Mr. Huntington has written more than 40 published articles, one of which–Rethinking Entertainment Technology Education–won USITT's Herbert D. Greggs Merit award in 2004. He has sound designed over 20 productions in New York City and regional theatres like Seattle Rep, and has given more than 25 master classes, workshops, presentations, papers, and talks at conferences and trade shows throughout the United States.
In 2005, Mr. Huntington was appointed by ESTA's Entertainment Technician Certification Program (ETCP) as one of 12 "subject matter experts", selected to participate in the creation of a brand new certification test for entertainment electricians.
Mr. Huntington taught as a visiting professor at the Yale School of Drama for 14 years; taught sound design at NYU; worked as a Systems Consultant for George Kindler's show and audio control firm Thoughtful Designs (a PRG company); as sound engineer at the Metropolitan Opera House and for the annual Met Opera/New York Philharmonic summer parks tour; as a systems engineer for Production Arts Lighting; as technical editor for Theatre Crafts and Lighting Dimensions magazines; and as an engineer for the special effects company Associates and Ferren.
Mr. Huntington studied technical design, production, theatre engineering and sound at the Yale School of Drama (MFA) and Ithaca College (BFA). He lives in New York City and is a member of Local #1 IATSE.