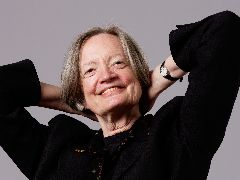 Jennifer Tipton (Lighting Designer) is well known for her work in theater, dance and opera and is currently represented on Broadway with her Tony Nominated Lighting Design for TO KILL A MOCKINGBIRD. Her recent work in opera includes Gounod's ROMEO ET JULIETTE directed by Bart Sher at the Metropolitan. Her recent work in dance includes Alexei Ratmansky's SHOSTAKOVICH TRILOGY for American Ballet Theater and the San Francisco Ballet. In theater her recent work includes Richard Nelson's first Gabriel Family plays at the New York Shakespeare Festival in New York.
Her recent work on Broadway is THE TESTAMENT OF MARY starring Fiona Shaw. Ms. Tipton teaches lighting at the Yale School of Drama. She received the Dorothy and Lillian Gish Prize in 2001, the Jerome Robbins Prize in 2003 and in April 2004 the Mayor's Award for Arts and Culture in New York City. In 2008 she was made a United States Artists "Gracie" Fellow and a MacArthur Fellow.
Highlights about lighting from the Primary Stages Off-Broadway OralHistoryProjectPS interview.