ETC (Electronic Theatre Controls) is proud to sponsor Stage Lighting Super Saturday.
ETC is a global leader in the manufacture of lighting and rigging technology for entertainment and architectural applications.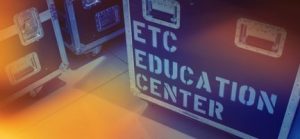 ETC's product offerings include the industry-leading Source Four® line of lighting fixtures; the award-winning lighting control systems Eos®, Ion®, Element™, Congo®, Congo jr™, SmartFade® and SmartFade ML; the innovative ETC Rigging™ line with Prodigy™ automated hoists and QuickTouch™ controls; the groundbreaking Selador® Series of LED fixtures that offers unprecedented color flexibility; the most comprehensive line of architectural control systems, Unison® Paradigm®, Mosaic™ and SmartLink®; powerful Sensor®+ and SineWave dimming systems; and the Smart Solutions™ family of compact, yet feature-rich, lighting gear. For more information on ETC's products, visit www.etcconnect.com.
Since its beginning, ETC has earned an industry reputation for unmatched technical and customer service. In addition to its own renowned service department offering 24-hour phone support, ETC has more than 150 authorized service centers throughout the world, employing hundreds of certified technicians.
ETC is also focused on education. The company conducts training sessions in cities around the world, geared toward various industries and product categories. A list of training sessions can be found here. End-users and industry professionals have direct online access to ETC through the company's popular user forums, and on Twitter and Facebook. And ETC has a full library of training videos and tutorials available through the company's YouTube channel.
Founded in Madison, Wisconsin, in 1975, ETC was a college project that grew into a major business, with Fred Foster as chief executive officer. Now, ETC employs 700 people globally and has its international headquarters in Middleton, Wisconsin, and offices in New York, Hollywood, Orlando, Hong Kong, Copenhagen, Ede (the Netherlands), Rome, London, Berlin, and Holzkirchen (Germany).
ETC products are found in small and large venues worldwide, such as theaters, restaurants, schools, performing arts centers, television studios, houses of worship, casinos, museums, theme parks and opera houses.
To learn more about ETC, visit www.etcconnect.com.